Precision Technology for Nano- and Optoelectronics
The photonics bonder is based on the T-7000 machine platform and is one of the most precise placement systems on the market due to its solid granite chassis. This precision is essential for use in the nanoelectronics and optoelectronics sectors.
New Standards in Precision and Flexibility
Technological miniaturisation and functional integration in nano- and optoelectronics are decisive for future-oriented product innovations. Positioning accuracy and reproducibility of complex microsystems are a prerequisite for quality and reliability of these products in the manufacturing and assembly process. Special attention must be paid to the assembly and connection technology.
We have developed the photonics bonder to successfully fulfil these requirements. The bonder offers sub-micron placement accuracy, a  travel range of 500 x 700 mm and a bonding head with minimum bonding force of 0.01 N. On customer request, the bonding force range can be optionally increased to 100 N, 300 N or 500 N. As is standard for us, we use granite as machine basis here, so that the highest possible precision can be guaranteed for optical components such as VCSELs, lasers, photodiodes, IR sensors or for the development of quantum technologies.
Flyer Photonics Bonder PDF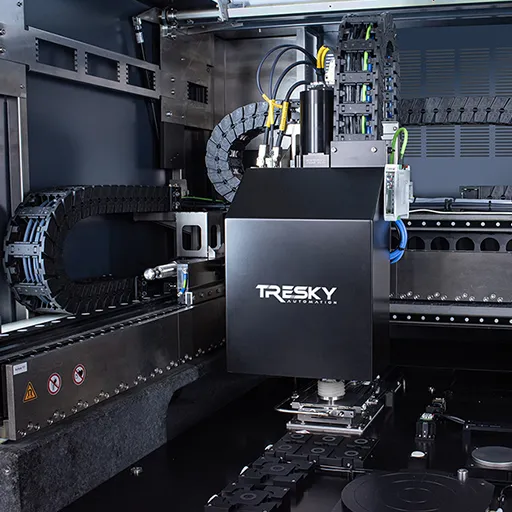 Due to the granite machine platform, the photonics bonder is a high-precision placement system.
All processes of the assembly and connection technologies offered by Tresky can be integrated. E.g. eutectic soldering or UV bonding.
The photonics bonder can be customized to meet specific customer requirements and expanded with different options. This means that the bonder can be used reliably in prototyping, product development and series production of nano- and optoelectronics.
The prototype-to-production approach enables the photonics bonder to be used both in manual prototype production and in series production.
Optional high bonding forces also allow the photonics bonder to be used for hybrid bonding or high-precision sintering applications.
Variable Parameters for Photonics Bonding